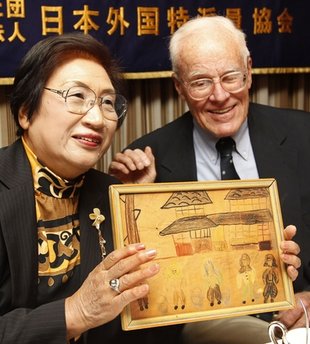 TOKYO – For decades, the faded photograph of a baby Japanese girl and a child's colorful drawing hung on a wall in the home of Franklin Hobbs III in America.
As a 21-year-old U.S. soldier fighting on Iwo Jima, one of the bloodiest battles of World War II, Hobbs found them in the pocket of a fallen Japanese soldier and took them as a souvenir.
Until recently, he tried not to think too much about the battle or the photo and drawing. Then, a few years ago, at his wife's suggestion, he decided to try to give them back.
For the girl in the photo and her sister, they meant the world.
Hobbs, now 86, returned to Japan this week for the first time since the war and met with one of the daughters whose life he changed by returning the items. Chie Takekawa had drawn the picture of an air raid drill that Hobbs found on her father — a man she barely knew and whose remains have never been found.
"As a child, I had always wondered when my father would come home from the war," Takekawa, 74, said Thursday with a beaming Hobbs by her side. "I feel like he has actually come back after all these years. I am very grateful."
(
more
)